LINA Extrusion Pelletizer
Most of the polymer must be kneaded and then granulated before it is made into a final product. Sorted by pelletizing ways, LINA rubber & Plastic Granulator can be divided into four categories: 1. Hot-cutting and air-cooling pelletizing method. 2. Under-water granulating method. 3. Water-strand extrusion method. 4. Water-ring granulation method. LINA pelletizer can meet the granulation needs of high-viscosity and low viscosity rubber and plastic materials, as well as some new materials and chemical additives.
LINA Water Strand Pelletizing Machine
LINA's water strand granulating machine adopts twin-screw extruder barrel and modular screw design. According to the processed materials and formula requirements, configurations such as length and diameter ratio, barrel structure, screw arrangement, filter change structure, number and location of exhaust, feeding methods, electrical control can be optimized. LINA rubber and plastic water strand granulator is suitable for kinds of renewable materials, outlet materials, glass fiber, nylon, ABS, high concentrated masterbatch and so on. LINA water pull pelletizer line is currently using the latest technology, its cooling effect is excellent, its pelletizing system is independent, and the outcome particles are even and beautiful.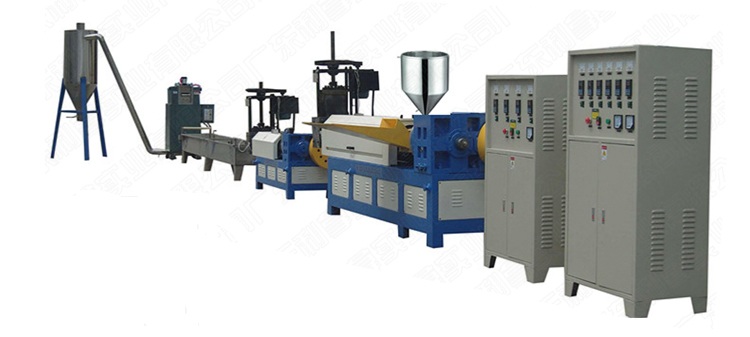 Advantage of LINA Pelletizing Line
1. The unit has the whole unit process chain, sound and light failure alarm and fast lock fault point and other control functions. All parts that are in contact with the material are made of stainless steel.
2. High accuracy of temperature control system to ensure the temperature sensitivity of the material.
3. It adopts the drop type separating method after cutting process, to avoid Particle agglomeration and ensure particle cooling.
4. Feeding system of the pressing machine adopts heater and reversing device to solve problem of power outage, material crash and cleaning.
5. Especially, the barrel and die head adopts advanced foreign techniques to ensure and control the dangerous occurred when the pressure is uncontrollable. The honeycomb filter plate is easy to clean and quickly change the mesh and the die head t easy to leak.
6. The hoist adopts automatic return technology to ensure the working efficiency.
7. The technological combination of dual-pull forced feeder and single screw not only meet the high requirement of secondary continuous mixing, but also solve the problem of time and power consuming of traditional working process.
Specifications of LINA Extrusion Granulating Line
Name

Mode

Capacity of Kneader

Screw length to diameter ratio

Screw diameter

Dimension

LINA Extrusion Pelletizing Line

LN-10/70

10L

12:01

70mm

2200*1000*1150

LN-10/75

10L

12:01

75mm

2650*1100*1250

LN-35/100

35L

12:01

100mm

3800*1090*1690

LN-55/120

55L

12:01

120mm

3800*1090*1690

LN-75/135

75L

12:01

135mm

3850*2350*3280

LN-110/150

110L

12:01

150mm

5100*2000*1500

LN-110/165

110L

12:01

165mm

5100*2000*1500